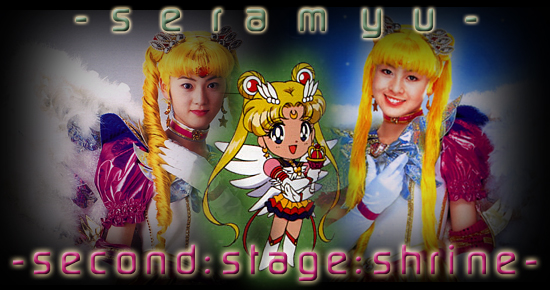 |[ Best Viewed 800x600 ]|
Welcome to the Second Stage SailorMoon Musical Shrine!
Sorry, but this page is English Only!
Last Updated | 17 April 2001
Total Blow-Out Update Coming Soon!
Wee! New, beautiful layout!
Please stay tuned for the lastest Musical details and media.
The following have been updated:
Info & History
Program Scans
Cast Info

SMSSS has a New URL!
http://seramyu.kouseiya.com

About the 'SeraMyu : Second Stage Shrine'
Here you will find Top Quality Information, Media, Photographs and much more of the Second Generation Actresses and Actors. Please browse anywhere you wish.
Not familiar with what SeraMyu is? Click Below!
|[ What is SeraMyu? ]|
Visual Cast Lists
Thank you once again for visiting my page, and I hope you enjoy it!


Please link my page to yours by using this handy banner!



<A href="http://seramyu.kouseiya.com"><IMG SRC="https://seramyu.tripod.com/ani1.gif"></A>



[ This page was created by Kou Diana. Majority of images shown here are credited to Kou Diana for scanning / creating them. Please ask permission or give credit / link page before usage! This page gains no compensation -- It is merely a Fan Page! SeraMyuİ / Bishoujo Senshi Sailor Moonİ belongs to Takeuchi Naoko, Bandai Visual, Bandai Japan, Toei Animation and Kodansya Shoujo Weekly.All rights reserved to their proper parties. ]